ANNOUNCEMENT: Patrick Leahy has signed a book deal for noir thriller Lonely Girl with Red Dog Press, slated for publication in November 2022.
The Knife-Edge Path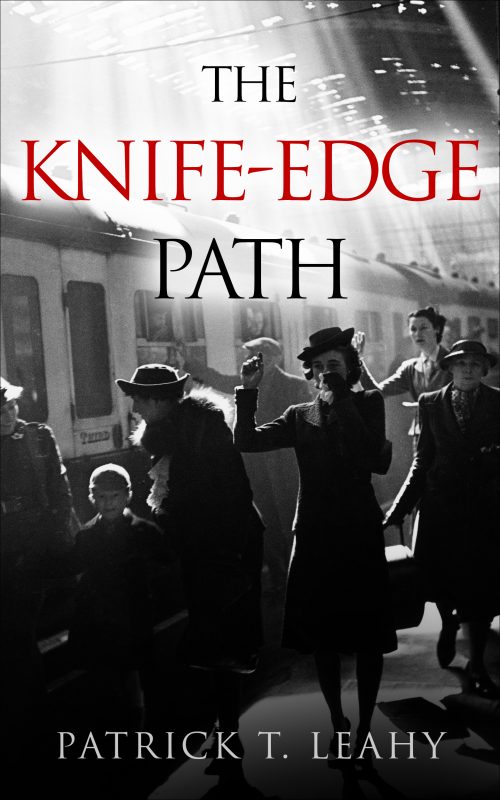 Driven by destitution in war-torn Berlin, a beguiling woman is cornered into accepting a precarious role in espionage to keep from being thrown out on the street. As Geli Straub becomes the seductive Mlle. Simone Miroux, on orders to discover whether SS officer Kurt Langsdorff is all he seems to be, her plot to betray him falters on conflicted feelings. Drawn past the point of no return into his life, she cannot sell him out. How, then, is she to save him without shedding the identity of the woman who deceived him, and on whom her life depends?
As an ardent, long-time admirer of Pat Leahy's meticulously crafted and at times almost painterly prose, I devoured his latest work in a couple of nights and am still reeling from the experience. In its mining of the human heart's darkest corners, THE KNIFE-EDGE PATH is just a tremendous read: the plotting tight as a harp-string and the characters drawn with such beautiful delicacy, the scope and sense of place genuinely stunning. This is a hugely impressive offering from a writer of significant talent, one that deserves the attention of the widest possible audience. If there's any justice in the world, he'll have a runaway bestseller on his hands.
– Billy O'Callaghan, author of My Coney Island Baby
All too often espionage tales feature a lead character that goes deep undercover, risks everything for the good of their country … willingly. But The Knife-Edge Path is different, here we have a protagonist who is left with little choice but to take on a guise and act as a spy for the SS.
Geli Straub plays a dangerous game when she "agrees" to become Mlle. Simone Miroux for an SS officer to spy on one of their own. Asking favours of her new SS friend is dangerous, and initially she thinks nothing of using her connections for information, cigarettes … whatever it is that she might need. However, the life of a double agent is a precarious one, never knowing who's watching and if everyone is who they say they are. For Geli/Simone this is only one aspect that is making life difficult. Whether as Frau Straub or Mlle. Miroux, she is a target of suspicion, her motives are questioned and her life is in danger.
Delving into the world of WWII espionage, the author takes readers on a journey filled with intrigue and danger as his characters face perilous situations and risk everything for what they think is right. As she gets to know SS officer Kurt Langsdorff, Simone Miroux sees there's a side to him that is at odds with his SS facade and develops feelings for him that she knows she shouldn't have, clashing with her mission and potentially putting everything as risk.
The writing is everything I would look for in a book set in this era, crisp details of the characters and their lives, the unnerving feeling of danger lurking ahead, the harrowing details of atrocious acts carried out in the name of the Third Reich and above all, it's hugely emotive.
-Kate, author of The Quiet Knitter
Photographs and Souvenirs
Still in the twilight of her beauty, but drained of love for her alcoholic husband, Stella Ryan falls into a trap of deliverance set by a coarse but young and handsome opportunist while her two boys Lou and Joe, missing the father they adore, befriend a combat vet who, secretly tormented by his role in the war against the Japanese in the South Pacific, enters their lives on a mission to protect them from the predator he suspects is out to trade their mother's life for her money.
"Patrick Leahy's Photographs and Souvenirs is among the finest achievements I've read in recent years, a gripping and beautifully nuanced story of a family in deepest turmoil. The prose is quiet and then, in moments, breathlessly raw; the story, delivered in vivid, tensile prose, is utterly compelling and exposes with almost surgical precision the deepest and most complex aspects of human interaction. Patrick Leahy is a remarkably gifted writer and this novel deserves a wide, enthusiastic audience."
Billy O'Callaghan
Irish Book Award winner, 2013
Book critic/reviewer, Irish Examiner
The Old Night of Your Name
When newly appointed Village Peace Officer Norma Faunce, saddled with a pathologically jealous husband, embarks on a search for a missing hunting guide in Southeast Alaska's unforgiving wilderness, she unwittingly courts disaster in her zeal to succeed, at last opening old wounds long hidden in fading memories of her fatherless childhood. Norma's whirlwind marriage to Gunnery Sergeant Roscoe Faunce in 1979 was too exciting for her to let his anti-social tendencies stand in the way. Herself a Marine, Norma was accustomed to having good times with dangerous men. Now into six years by Roscoe's side as he floats to the top of a migratory Fish and Wildlife Service career, she chafes at her stay-at-home existence in yet another remote Alaska village. She rebels, taking on the job of Yakutuk's sole peace officer. As she grows more and more confident, eventually certain that murder was involved in Ward Hubble's disappearance, she runs from Roscoe's mania to possess her into the arms of a man who not only tops her list of suspects, he mysteriously refuses to invoke the alibi that could clear his name. Behind this dilemma lurks a trap that Norma cannot foresee. She can only try to hide the affair from Roscoe long enough to decide whether the discovery of a dead man is worth the loss of a love that might, at last, be real.
"Delivered in a clean, descriptively rich narrative voice, this excellent book is a carefully managed blend of mystery and a serious psychological portrait of a feisty, practical woman vulnerable to her own desires and struggling to manage her life. A great read from cover to cover."
-Ian T. Macmillan Author of Village of a Million Spirits Winner of the P.E.N. USA-West Award for Fiction.